Ker-Wal is a distinguished decorative concrete solutions company serving Winnipeg and surrounding areas for almost a decade.
You benefit from our years of decorative concrete experience beautifying our customer's properties through projects including concrete driveways, patios, walkways, pool decks, retaining walls, pillars and more. Your project is taken care of from initial concept to final sign off with our team of devoted concrete professionals. Your satisfaction is our main goal as our reputation is very important to us on each and every level.
Rest assured your projects are carried out using the best materials in the market and the very best quality of service.
Enhance your Industrial/Residential property with a stunning concrete driveway.
Any concrete driveway should be designed to handle day to day traffic and be low-maintenance for years to come. At Ker-Wal, we use top grade concrete mixtures, reinforcement steel, and specialized techniques for creating your concrete driveways.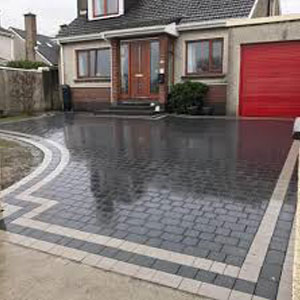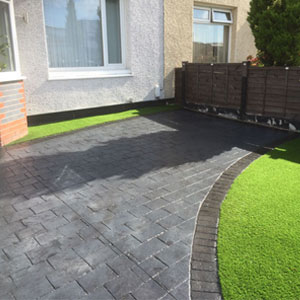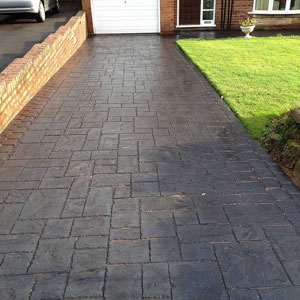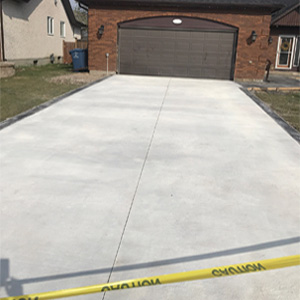 Concrete

Options for Concrete Driveways

Concrete Driveway options include different colors, patterns, and finishes, depending on your preference and budget.

Ker-Wal's Concrete Driveway options include the following:

Combination Stamped & Exposed Aggregate Concrete – most popular

Stamped Concrete

Exposed Aggregate Concrete

Regular Concrete which comes in
i) Broom Finish
ii) Spin Finish
iii) Smooth Finish
iv) Sandblast Finish
Project

Process for Concrete Driveways

A typical project process for concrete driveways includes the following elements:
1) Design
We work with you to design the concrete driveway you want, including type of concrete from above, pattern, color, finish, and shape
2) Excavation
Prior to excavation, great consideration goes into planning and removal of existing elements such as concrete, dirt, wood, or asphalt in project area. We use machinery where possible and manual labour and wheel barrels in hard to reach areas.
All excavated material is hauled away
3) Formwork
Formwork is established as per approved and contracted design
4) Subgrade Preparation
The most critical step in creating a long lasting concrete driveway is in preparing the foundation with a granular stone subgrade. Ker-Wal provides a highly and evenly compacted granular stone subgrade depth of 3" to 6". The granular stone subgrade is also graded properly to ensure proper water drainage away from the house
5) Reinforcing Concrete
Reinforced steel rods (also known as "re-bars") are placed in a grid like pattern in concrete driveways to increase concrete strength and distribute vehicle weights over a larger area, thereby increasing concrete driveway lifespan. Reinforced concrete does not prevent or eliminate cracks, its purpose is to increase concrete bonding and strength
6) Concrete Pouring
5″- 6″ thickness of concrete is directly poured into the formed area from a concrete truck and/or wheel barrows. During pouring, concrete is raked into place, reinforced steel rods are raised slightly off the subgrade into proper position, and the concrete is screeded using a straight edge or bull float
7) Concrete Surface Preparation
Color Hardner for Stamped Concrete Driveways:
Color hardener is applied to the stamped project area. Once the color hardner is absorbed, the stamped concrete is troweled to a smooth finish. Next, a Release Agent is applied on the smooth concrete finish prior to the stamping process to prevent the concrete from sticking to the rubber molds used during the stamping process.
Retarder for Exposed Aggregate Concrete:
Retarder Agent is applied on the smooth concrete finish and it is covered for 24 hours to prevent the top concrete layer from curing until the washing step
8) Formwork Removal
All formwork is taken apart and hauled away
9) Control Cut Joints
Control cut joints are placed in concrete to help prevent cracking.
All control cut joints are cut by dry method using concrete saws with diamond blades.
Control cut joints are measured and chalked where cutting will take place.
Joints may be incorporated into concrete patterns and designs to be somewhat camouflaged, be at least 1" – 2" deep depending on the concrete's thickness, and spaced less than 5' 1/2" feet apart
10) Vertical Stamping Parging
Color hardener is applied to vertical concrete surfaces and bullnose
Stamped patterns are then used to create patterns on vertical concrete surfaces and bullnose
11) Pressure Washing
For Stamped Concrete:
Release agent is washed off the concrete surface and then buffed, creating a natural antique look
For Exposed Aggregate Concrete:
Retarder agent is washed off the concrete surface exposing the aggregate concrete pebble look finish
12) Site Clean Up
Site clean-up is performed including raking and washing of lawns, roadways etc.
13) Concrete Sealing
VOC – Volatile Organic Compounds – compliant acrylic sealer and anti-slip agents are used to provide a long lasting, deep color, and wet look to Stamped or Exposed Aggregate Concrete.
Budgeting for Concrete Driveways
Budgeting for concrete driveways takes in to account all the above design factors.
Typically however, the larger the concrete driveway surface area, the lower the pricing per square foot.